Autumn Outing 2016
Ellen Elder

---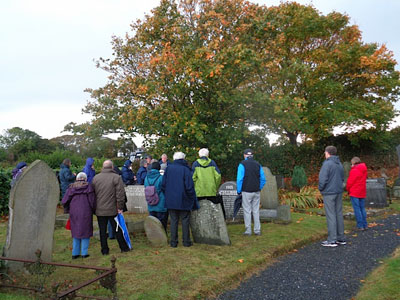 This event is part of the Heritage Lottery Fund First World War Grant Programme.
Saturday 15th October didn't look promising when 19 members met for our annual autumn outing, but Chairman Ian assured us that Cecilia Daly had forecast a day which would "brighten up later", so we took him at Ms Daly's word and got on the bus. Thanks to a Lottery Grant negotiated by Heather McGuicken, Manager of North Down Museum, local societies had been given the chance to study WW1 period history in their local area by the offer of free transport.
First stop was Orlock where Ian told the story of Miss Irene Ethel McGeown, a civilian who, in August 1914, was shot by an over zealous sentry at the Orlock Signal Station. He also mentioned the German Paul George Wentzel who was tried as a spy, having previously worked at the leadmines at Conlig. Things were jumpy at this early stage of the war. Travelling on through Donaghadee towards Ballywalter, Ian told stories about U-boat activity that destroyed local shipping.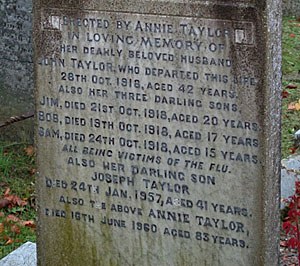 For most of us the visit to Whitechurch Cemetery was a first ( we were amazed that a small village graveyard should contain relatives of writers Oliver Goldsmith and Jane Austen). A headstone commemorated three sons lost in the great war, volunteers John, George and Robert of the McLean family. Equally poignant was the memorial erected by Mrs Taylor who, within 9 days in October 1918, lost her husband and three eldest sons not to gunfire, but to the pandemic Influenza which killed something like 500 million worldwide. Censorship in the belligerent countries meant that the seriousness of the illness was not broadcast, but neutral Spain's King Alfonso was affected, it was reported there and so became known as Spanish Flu. Some of us had been given our flu shots that morning, so it was interesting to muse on medical advances in the last 100 years.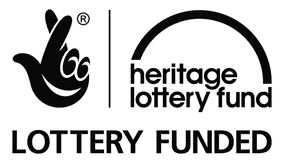 Our tour continued into Cloughey, past WW2 airfields where the old control towers can be seen, and then through Kircubbin with wonderful views of Strangford Lough and the Mournes. We finished up at Harrison's for coffee and yummy traybakes without which no outing is complete. Home to Bangor by 5.15pm ready for tea and Strictly Come Dancing.