The Annesleys of Castlewellan
Report by Sandra Millsopp

---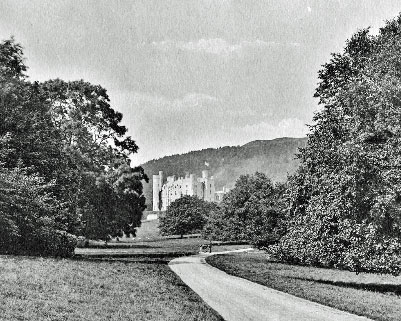 Bangor Historical Society held its October 2013 meeting on the 10th. The speaker was Terence Reeves-Smyth who talked about the Annesley family. He pointed out that their main property was in Castlewellan, although they had other houses and lands in the area.
Sir Francis Annesley was granted lands in Munster and held the post of Secretary of State from 1616 to 1632. He was a friend of Sir Arthur Chichester and soon acquired land in south east Ulster.
Arthur Annesley was the first Earl of Anglesey and left huge estates at his death in 1686, including land in Wales. His Ulster estates were inherited by his son Francis who was based in Clough, an important and strategic centre. His descendants continued to improve the family fortunes. They leased and then bought lands at Castlewellan in the early 1740s. Another acquisition was Newcastle. A farmyard and walled garden were constructed at Castlewellan, but the family do not seem to have built a house there.
Francis Charles became first Earl Annesley. He decided to live at Mount Panther outside Newcastle where he enlarged the existing house by raising it a storey. He also added a ballroom and high quality plasterwork in the style of Adam. When he died in 1802 the house was taken over by the family agents, the Moores. The Earl had two children by the gatekeeperís wife, but they lost a court case in an attempt to claim the Annesley estates. Instead the Earlís brother inherited.
The new Earl decided to live at Castlewellan instead of Mount Panther and constructed a villa there. His son, the third Earl inherited on the death of his father in 1824. He married Priscilla Moore and built a house for her in Newcastle, remodelling the late sixteenth century tower house. He also developed Newcastle and built a harbour there. Donard Lodge decayed after the Countessís death and was eventually demolished. The fourth Earl abandoned Newcastle and decided to build a house at Castlewellan. He employed the architect William Burn. A photograph showed the house under construction in the 1850s. The Earl also created large pleasure grounds with terraces, fountains and glasshouses. He died in 1874 and his brother Hugh inherited the title and estates. He travelled a great deal and collected plants for the arboretum.
The sixth Earl was killed at the beginning of the Great War and his sister Mabel succeeded to the estates. She was an artist and traveller. In 1959 her son Gerald Sowerby inherited and changed his name. He began to sell land to the tenants and finally sold the estate to the government. It was acquired by the forest service in 1967.
Terry Eakin proposed a vote of thanks for the excellent talk.