Ballyholme Showgrounds circa 1928
Ian Wilson

---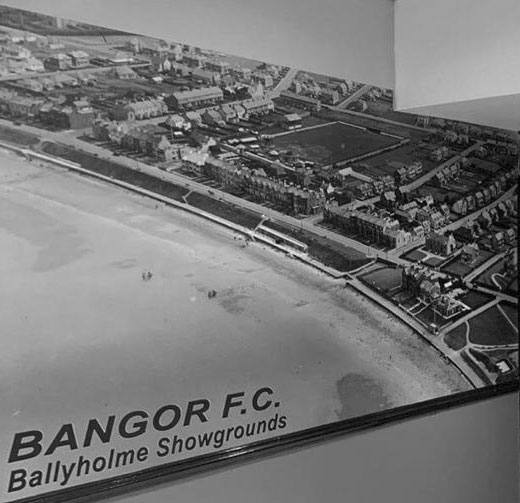 Perhaps the most striking thing about this wonderful aerial view of Ballyholme is that relatively little has changed in almost 100 years! This blow-up has just been mounted at the entrance to Bangor FC's social club.
The Showgrounds was the rented home of the club in the 1920s but they did not have enough money to purchase it. The landowner Mr Brice sold it to a developer who built Sandringham Drive through it. Bangor Borough Council then found the club their present home Clandeboye Park (latterly Bangor Fuels Arena!) a former town dump.
Even today a Sandringham resident finds old coins when digging his garden hellip; he reckons it was the site of the turnstiles!
The playing surface was said to be one of the best in the Irish League owing to the sandy soil. My father as a boy went to cheer on the Seasiders.
He recalled that on one occasion, probably at Christmas or New Year, a visiting supporter near him produced a hip-flask to refresh himself with a potent spirit. Such was the effect of the fumes, my father's head began to swim and he had to seek a tap under which to put his head!